NCRHA National Championship Update
Round Robin play update, and pics and video on Facebook!
SCHL
April 8th, 2011 at 3:53AM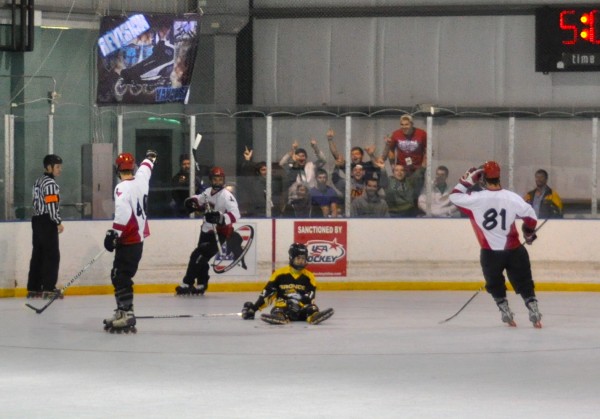 ---
The SCHL is being well-represented this year at the NCRHA National Championships, with teams earning wins in both Division 1 and Division 2. Full game boxscores and schedules are available online at www.ncrha.org.
The SCHL is providing score updates, photos, and videos via the league's Facebook page at http://www.facebook.com/schl1. Please "Like" the SCHL's page and help us to tag player photos.
Quick Updates
Division 1
UNT
The Mean Green have completed round robin play and will face Cal Poly in their first elimination game on Thursday night at 11:45 PM. UNT's best game of the opening round was a 3-2 victory over Buffalo.
Division 2
Texas Tech University
TTU is 1-1 after routing Western Michigan by a score of 8-3. The Red Raiders controlled the pace of the game with their outstanding team speed and physical play. The TTU defense also played especially well on the power play, killing off the advantage several times during the contest. Texas Tech's next game is Friday at 2:15 PM.
University of New Orleans

UNO stands at 0-3 after a series of tough defeats. The Privateers are staying competitive, despite a short bench and a stout draw. The talented pair of Jason Langhoff and John Ross are proving dangerous at the national level, but goals are tough to come by this year in Madison. Their next game will be against the top-seeded team from Pool B on April 09 at 10:00 AM.
B Division
North Texas B

The UNT B team had a terrific opening game against Metro State - Denver, working hard and playing smart in a 1-0 loss. The speedy and talented Metro State squad had a clear advantage over the scrappy Mean Green, but were unable to pull away. UNT B goalie Glenn Morello played extremely well and could steal a game for his team this tourney. The UNT B team plays again Friday, April 8th, at 9:00 AM.

Help us cheer on our region's clubs and add your cheers and congrats to their pics on the SCHL Facebook page right away!
SCHL