Florida Gulf Coast, Tampa and Texas Tech descend upon Denver
Colorado improves to 6-2 on the year, Colorado State makes season debut
November 7th, 2019 at 6:31PM
November 8th, 2019 12:38AM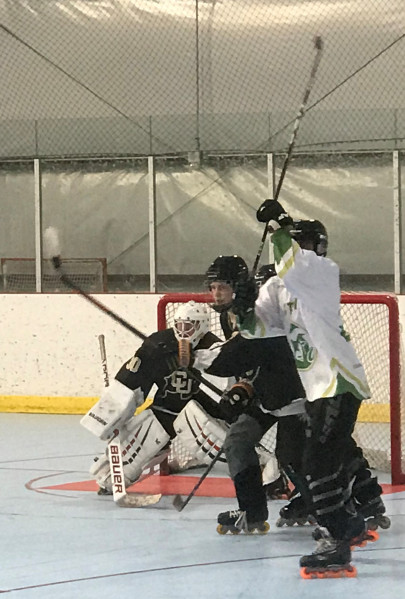 ---
The Florida Gulf Coast University Eagles, University of Tampa Spartans and Texas Tech University Red Raiders made the trip out to Denver on November 2 to face off against the 2 Centennial State squads, University of Colorado Boulder and Colorado State University.
Colorado started off their season just 2 weeks ago with a road trip to San Jose, CA, going 3-1 against WCRHL opponents. In their home event, again the Buffs went 3-1, improving to 6-2 on the year. A rocky start in the loss to Texas Tech, by a score of 8-3, required the team to regroup via conference room team meeting, and then go on to win all 3 of their remaining games. The big one for the Buffs was the 6-5 overtime win against Florida Gulf Coast, via power play goal by Cameron King, his 2nd of the game. CU's Kyle Schwartz also had 2 goals in the game. FGCU scoring was led by Sean Filiault and Christopher Carlisle, both also with 2 goals a piece.
Colorado State, back for the first time since the 2015-2016 season, had the toughest schedule of the day, with all 1 game breaks. Despite the Rams 0-4 record on the day, the team is energized and continuing to recruit, looking towards the 2nd semester. The Rams had a respectable game against the Buffs, losing 8-4.
Colorado and Colorado State will play a doubleheader late in February, and both teams will take road trips 2nd semester. Colorado looks to head out to the January 25-26, 2020 event held at Kansas State University, while Colorado State is considering road trips to Phoenix on February 1-2, 2020 and a possible trip to Texas.
Big thanks to the Florida Gulf Coast (2-1-1 on the day), Tampa (3-1 on the day) and Texas Tech squads (2-2 on the day) for making the trip out. The Texas Tech boys were able to take in the Stars/Avs game over the weekend, and we hope you all had fun as well. Look for a similar event, bigger and better, in the 2020-2021 season!
For all of the score from the weekend, click here: https://ncrha.org/event/_/2061?event_id=2061