2019 HOCKEY IS HOCKEY EVENT Featuring COLLEGE ROLLER HOCKEY,
COMBINE TRAINING, VENDOR PRODUCT DEMOS, EXHIBITION GAMES,NCRHA ALUMNI GAME & MORE
August 6th, 2019 at 10:18AM
August 6th, 2019 3:48PM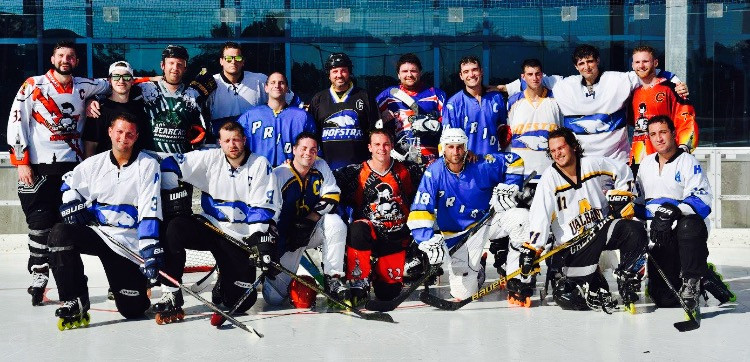 ---
EAST MEADOW, NY – In conjunction with the NCRHA and state-of-the-art host facility, Northwell Health Ice Center, Hockey Is Hockey 2019 is proud to dedicate a large portion of their upcoming event towards hosting College Roller Hockey programs including Team Builders & Guest Presenters, Combine Training and Exhibition Games, Vendor Product Demos, and an NCRHA Alumni Game.

Hockey Is Hockey is a festive community event series serving as a celebration of the game we love and a tribute to our grassroots, featuring youth through professionals with Dek, Ice, and Inline Hockey programs, sponsors and vendors, film crews, music, and more.
The 2019 event will kick off on Monday, August 19 with a four-day Roller Hockey Camp at The Sports Arena in St. James. On Tuesday, August 20 the NCRHA Alumni OUTDOOR Game is set for 7:30pm, under the lights, where each team will receive locker rooms with showers and various giveaways and hospitality details. The game will be followed with a post-game gathering at a local establishment to be determined. All NCRHA alumni members are welcome to participate and are asked to bring both a Home & Away College jersey. Upon registration, a social media player draft will take place in order to determine the game rosters. Cost is $25. Please email [email protected] for registration details.
The event continues Wednesday, August 21 with all-day Training Sessions and Team Builders, followed by an Exhibition Game/Open Skate Session.
Thursday, August 22 features DRAFT NIGHT. The Youth Roller HIH Best of 3 Series Player Draft will begin at 6:30pm, followed by the Player Draft for the Main Event Ice and Roller Games. TRUE Hockey and LABEDA will be sponsoring one team each for the Main Event Games, where Team TRUE and Team LABEDA will face off against one another in an ice and a roller game. The rosters and score of Friday night's Main Event Ice Game will carry over to Saturday night's Main Event Roller Hockey Game.
The Main Event Games Player Draft will include 30-40 players consisting of NHL Alumni, Professional Ice & Roller, Professional Women, Team USA Roller, NCAA & ACHA, NCRHA and Junior Ice levels. In addition to the professional and collegiate ice players, the game rosters will also include various NCRHA Alumni and current players. The Coaching Staffs will be made up of NHL Alumni, local celebrities and professional players, sponsor company representatives, along with local ice and inline coaches. Comedian and actor, Chris Roach (ABC's Kevin Can Wait), will be in attendance to deliver some comedy and serve as one of the coaches. Draft Night will also include Vendors and Sponsors, Autograph Sessions, Film Crews, Live Podcasts and Media.
On Friday, August 23, the Matt Martin Youth Hockey Camp All-Star Game will take place at 5:30pm, followed by the Hockey Is Hockey Main Event Ice Game.
The event will continue with Saturday's Hockey Is Hockey Day. The full festive day of ice, roller, ball hockey programs and more will kick off with College Roller Hockey teams interactively participating in Team Builders, Combine Training (led by professional ice and roller player, John Schiavo), Vendor Product Demos, and Exhibition Games. These programs will allow each college program to interact with one another while training, team building and competing, and include the event as a part of their tryout/training camp schedules. Separate Combine Training and Vendor Product Demo sessions will also be held for groups of youth through adult hockey players as well.
In addition to college programs and related events, Hockey Is Hockey Day will include The Boys of Sundays (a Roller Hockey game dedicated to a local group of adult players who have been routinely attending a weekly Sunday pickup game for several years), theNHL Recycle The Game Equipment Drive, Ball Hockey Game, John Schiavo Ice Clinic, two Women's Ice Games and a Breast Cancer Awareness Drive, a PIHA Minor Division Showcase Double-Header, Youth Ice and Roller Games, and a Roller Skills Show…
All leading up to Saturday night's outdoor Main Event Roller Hockey Game.
All players, families, friends and fans are invited to join us for the week-long celebration of the game we love!
Stay tuned for our confirmed event schedule release on August 1.
Please follow us on Instagram @hockeyishockey and Facebook for additional information.