2nd Semester Approaches: Spotlight on Cal Poly Pomona
WCRHL to post Spotlight Articles on each team leading up to their 1st event of the 2nd semester
January 6th, 2020 at 10:45PM
January 7th, 2020 4:45AM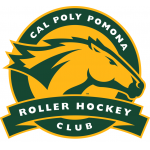 ---
The Cal Poly Pomona Broncos lead the standings in WCRHL's Division III, with a 6-2 record after 2 events. Wins have come against University of Colorado, UC Berkeley, Nevada (2x), and Cal Poly SLO Gold (D4) and CSU Fullerton (D4). Losses for Pomona were against West Valley College (JC) by a score of 5-4, and Cal Poly SLO (D2) by a score of 6-2.
It's no surprise that Cal Poly Pomona has 6 players in the top 10 in WCRHL Division II scoring, as they were a final four finisher at the 2019 National Collegiate Roller Hockey Championships.
What is interesting about it is that leading point scorer Derick Rosas has been moved back to the blue line (if roller had a blue line) and still contributes heavily, it's just a reverse of last year's numbers. In 18-19, Rosas had 39 goals and 28 assists, and this season he is on pace for the same or more, but has 12 goals and 24 assists at the midway point in the season. Returning players Nathan Jiminez, Ian Duffy, Kevin Erving, William Lade-Miller and Taylor Paerels round out the top 10 in the division in scoring. Goaltender Jacob Oberschelp leads WCRHL Division III goaltenders with a 3.29 Goals Against Average.
The Broncos next set of games is a 2 set against UCLA in Corona, CA on January 11. They then travel to Queen Creek, AZ for 4 games and then finish the season with 2 games in Huntington Beach, CA on Feb. 15-16.